First up the bad news is the Main Ingredient Radio Show is now going to be fortnightly due to work commitments, hopefully I'll be able to update the blog with other stuff more regularly though.
Secondly you shoulds check
Jon Phonics
new album "
Half Past Calm
", not only is it very dope, it's
FREE
so no excuses, featuring
Verb T, Sir Smurf Lil, Triple Darkness etc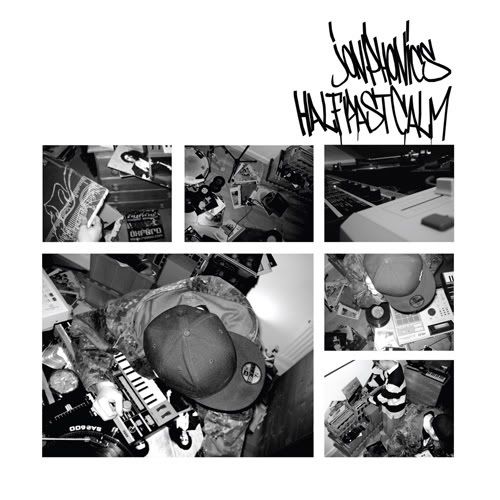 DOWNLOAD IT HERE
Thirdly I realised I still hadn't posted my best of '07 list so here goes
Feel free to add your own additions in the comments section as I'm going to have missed a few things ;)
First off a few things which didn't make it onto wax before '07 but were made a good few years earlier
Godfather Don - Slave Of New York EP (DWG)
Baritone Tiplove - Livin' Foul 2LP (previously tape only)
Kool Keith & Kutmasta Kurt - Sex Style Unreleased Archives (Thresh Hold)
Ultimate Force - I'm Not Playin' Album (Traffic)
A few 7"s have come out too, I'm not going to list all the funk I've bought either...
Black Milk - Stern (Fat Beats)
DJ IQ - 8 Bars Of Fire / 9 To 5 (Mancan)
DJ Spinna - Dilla is the G.O.A.T. / Dillagence (Cult 45)
EPMD - Rampage Demo Mix (unfortunately it's a bootleg but so good to have this finally to play out)
Now and Again Re:sounds Boxset - 7 great 7"s
Paul White > Dragon Fly (One Handed Music)
Saint feat Cadence & NYOIL - All Love (Jakarta)
On the 12" front theres been some amazing releases...
Big Shug - Play It (Babygrande)
Black Milk - Sound The Alarm Remix (Fat Beats) think the OG 12" was 06?
Connie Price & The Keystones feat Big Daddy Kane & Percee P (Scion)
Def Tex - Thanks But No Thanks Album Sampler (Son)
Ed209 - Stayexstatic 12" (VRD)
EPMD - Main Event (Dehop)
Freestyle Professors - Vintage EP (Freestyle Professors)
Geo & Ricochet - A Lil Sum Em Sum Em (Freestyle Professors)
Ghostface Killah - The Champ 12" (Starks Ent) for the much better demo mix
Ghostface Killah - Celebrate (Def Jam)
Guilty Simpson - Mans World (White)
Heralds Of Change - Sittin On The Side (All City)
Jazz Addixx - Say Jazzy (Goon Trax)
J.Dilla - Wild / Make Em NV (Stonesthrow)
Kanye West > Classic Remix (Nike)
Nas Where Are They Now Remixes (Ill Will)
Nine:Fifteen - Walking Thru Fire (Candle Wax)
Marco Polo - The Radar (Soul Spasm)
Marco Polo - War / Nostalgia (Soul Spasm)
Memory Man feat Kool Keith - The Kool Keith Show (Chopped Herring)
MF Grimm - Earth (Shogun)

Pete Rock - 914 (Nature Sounds)
Phat Kat - Cold Steel (Look)
Percy Filth - Don't Take It Percynal (Aerosolik) bit biased on this one but uff it!
Scienz Culture - Ginsu (Sunshine Ent)
Skyzoo & Torae - Click (Fat Beats)
Sputnik Brown - Are You Having Fun Yet (High Water Music)
Termanology - So Amazing (Brick)
Stig Of The Dump feat RA The Ruggedman - Braindead (Beer and Rap)
Ultimate Force - Girls (for the incredible Supreme Diamond D track BANANAS!)
Y-Society - Never Off (Tres)

It's been a quiet year for dope albums, people just don't seem to want to craft a decent body of work and seem content with making throwaway mix cd's and quadruple albums of filler. Heres the releases I can listen too pretty much in their entirity and that came out on wax...

Big Shug - Street Champ (Babygrande)
Black Milk - Popular Demand (Fat Beats)
Heliocentrics - Out There (Stones Throw)
Marco Polo - Port Authority (Soulspasm)
NYG'z - Welcome 2 G Dom (Year Round)
Percee P > Perceverance (Stonesthrow)
Pharoahe Monch - Desire (SRC)
Polyrhythm Addicts - Break Glass (Babygrande)
Shape Of Broad Minds (Lex)
Wajeed - War LP split over 2 x 12"s (Fat City)
Y-Society - Travel At Your Own Pace (Tres)

Some CD's that you do need to cop though...

Aroe's Crown Jewels (not sure if this is 07, but uff it it's too good)
Buckwild - D.I.T.C Rare Studio Masters (Ground Floor)
Cappo - Directors Commentary
Conspicuous - The Family Photo Album (Sit Tight)
Def Tex - Thanks But No Thanks

DJ IQ - Live From The Sofa (Mancan)
Lord Finesse - Rare & Unreleased (Underboss)

Although J-Love put out some nice 12"s this year, he should stop releasing CD's with drops all over them.

A special mention also goes to Traffic for reissuing alot of the old Cold Chillin releases as 4LP sets with loads of bonus material and 12" mixes

Kool G Rap & DJ Polo - Road to The Riches
Kool G Rap & DJ Polo - Wanted Dead Or Alive
Master Ace - Take A Look Around
MC Shan - Down By Law

Instrumentals...
Samon Kawamura - Translations (Nesola)
J.Dilla - Ruff Draft Instrumentals (Stones Throw)

It's also been a great year for picking up older records but I'm not going to bore you with my personal finds.
As for promo items, they seemed abit thin on the ground this year with everybody going mp3 crazy, but Stonesthrow knocked out a nice Ruff Draft cassette and a great looking boxset, just a shame about half the music in it! They redeemed themselves with the excellent Now Again Re:sounds 7"boxset though. Great to hear Scor-zay-zee making a comeback too.

Please add any other releases you feel worthy in the comments

cheers

Cro